So I know everyone thinks that being an Interior Designer is a glamorous job where I get to shop with other people's money and pick out paint colors all day. Unfortunately, I am here to tell you that is a small (VERY SMALL!) part of what I do. Most of my days are spent working on tedious detailed drawings, fighting with city planning, contractors, and trying to achieve a look for a client on an ever-shrinking budget. With that said, there are perks to the job, and no it isn't getting to use the Port-O-Potty on the job site. On occasion, I have access to leftover materials and when I get this opportunity, I always try and make the most of it.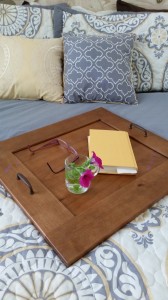 I am not sure if you are familiar with the San Jose, California housing marking but it is absurd to say the least. As many of my other design friends can attest to, this is a job you do because you love it, not because you make great money. With that said, I live in a cottage that is a whopping 475 square feet. If you are not aware, that is about the size of a shoe box or perhaps one of your closets. When given the opportunity to take a remnant, leftovers, or yes, even sometimes garbage–I am all over it. Recently, at our showroom, we were updating some cabinet samples and the old cabinets were going to be thrown out. As a lover of wood and an avid DIY'er I couldn't bring myself to toss these solid cherry, alder, and maple cabinets into the dumpster. Instead I made it my mission to come up with as many alternative uses for them as I could think of. As mentioned before, when you live in 475 sq. ft. there isn't a whole lot of room to put in extra cabinets so I had to get a little creative. I did take two of them and build myself a new dresser (pictures coming soon as it is still undergoing its makeover). Here are a few of the ideas so far.
First up: these awesome little breakfast/computer trays. These are just the doors from a few of the cabinets. This works great if the rest of the cabinet was damaged during removal or if you find a single cabinet that might not match other things in your space. This was an easy one. I found some hardware (also acquired from the dumpster doomed cabinets), drilled the holes, found some screws and ta-da! I will admit though, this one I borrowed from another designer friend who came up with the idea a few years ago (Hi Melissa!).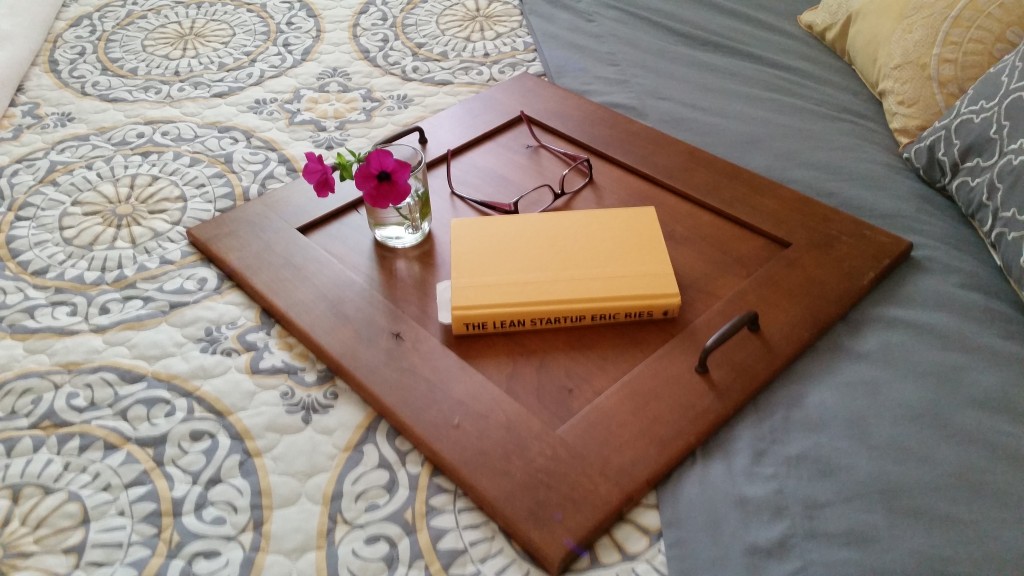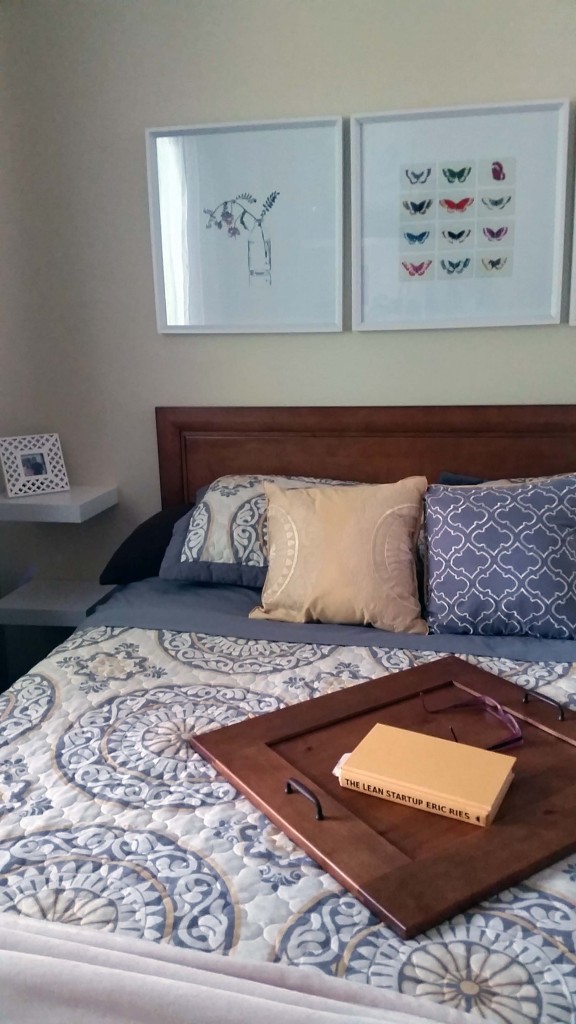 This next one took me a little longer. We had a large pantry unit that had a solid cherry door that stood over five feet long. I thought about it for about an hour before I said toss it, I can't think of anything. Literally as it hit the inside of the dumpster I realize what I could use it for. Go ahead and cringe, I went in after it. The bed we had been using was old and rickety and there in the dumpster was my new solid cherry headboard. To hang it I just used several of those double sided Velcro strips and slapped it right to the wall.
This last one is my personal favorite so far. I had been trying to figure out a way to get some more storage in my cottage and the old saying rang true–if you can't go out, go up. I got some old crown molding, had a contractor friend miter the corners for me (I wish I could take credit for this part but that is a lesson for another day) and just like that I not only had a home for my shoe collection but also some drop dead gorgeous art!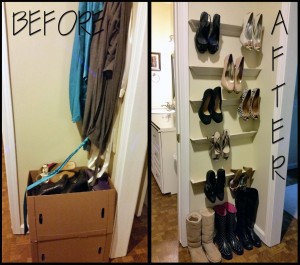 I have more ideas in the works like a message center and a coat rack that I look forward to sharing with y'all. If my pesky full time design job would stop getting in the way of my true love–DIY'ing! What cool ideas would y'all like to see implemented in a trash to treasure challenge?
---