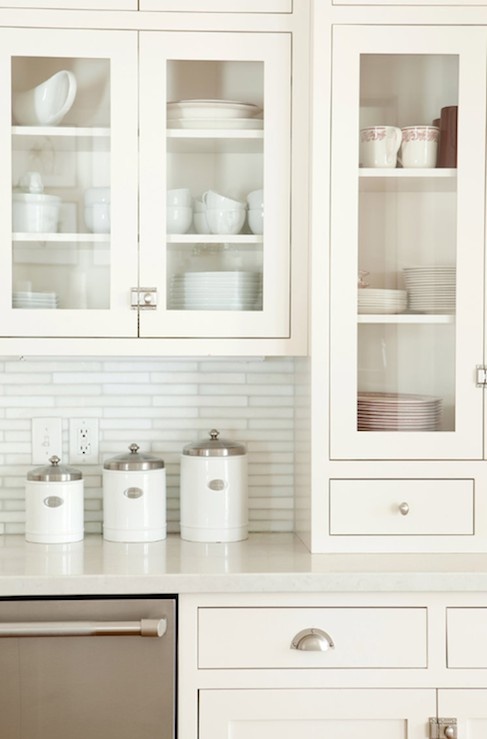 My first job out of college has been the department manager, product buyer, outside salesman, and occasional lock smith for a local showroom's hardware department. Like most people, when I accepted this position I didn't know a single thing about door and cabinetry hardware. Although I had a design degree and I knew what was aesthetically pleasing as far as hardware went I had no idea about all the options someone had when selecting it. As I started returning the 57 voicemails that awaited me my first week on the job, yes 57, I began to realize how very little I did know about it. I work hand in hand with customers on a daily basis and we nearly always get to the point where I can see them become overwhelmed with all of their options. With that in mind, I want to give you a crash course on the must know information before you shop.
Cabinetry hardware is a good place to begin because it is fairly straight forward. If you are using new cabinets that are not already predrilled, the sky is the limit when making your selections. I would recommend spending some time looking at different ideas and ways that you can be creative with your hardware. There are so many different hinge types, latches, and cup pulls etcetera that you can use for around the same price as a plain knob or pull. Don't be afraid to mix some different design styles for a more custom look. This also lets you use that ice box latch that you fell in love with but it is just a little too far out of the budget. Don't forget that if you have an island this is a perfect place to display a more decorative piece.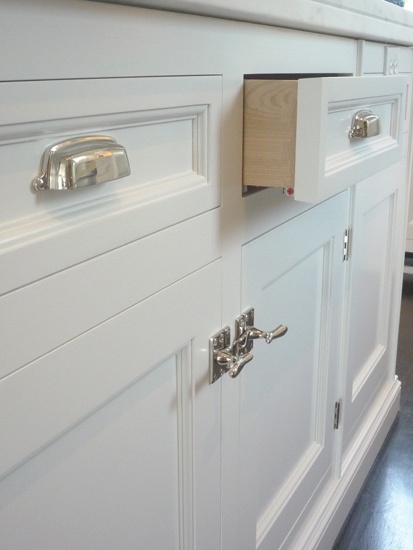 If you are working with your existing cabinets, hardware is a very economical way to give your kitchen a face lift on a smaller budget. If you are going to paint your cabinets I would recommend filling the existing holes, sanding, and painting so that you can get the exact look you want. If you are using the cabinets "as is" make sure you take measurements of the "center to center" (The middle of one hole to the middle of the other hole when using pulls.) before you shop so you know exactly what will fit on your cabinets. Also do a count of how many knobs vs. how many pulls you will need. Even if you aren't ready to buy that day, having an idea of how many you will need will help when planning out your hardware budget.
You may notice that when shopping two pulls that look very similar have a drastic difference in price. Hardware pricing is structured on the product's base material. The more pocketbook friendly pieces are usually made out of a zinc composite material. More luxury items are made from solid metals like brass or bronze. The finish options are nearly endless but make sure you are asking about the longevity of the finish while shopping. Some come without a lacquer and are engineered to turn very quickly. Others have a tarnish free guarantee. Be sure to get a good idea of everything that is offered before making your decision. Remember: this is a small decision that can make a big impact if done correctly.
Door hardware can be a little trickier but here are a few tips to help you navigate the problem areas (and hopefully save you a few trips to the hardware store).
-For exterior doors, know what lock style you have. There are three main types of exterior door locks: mortise lock, tubular lock, and multi-point locking systems. A mortise lock is a steel box that is "mortised" into the door. These can be easily determined by their long (about 5"-7") latch plates on the edge of the door (where the latch meets the door jamb).  If you have a mortise lock, make sure to note the following before shopping: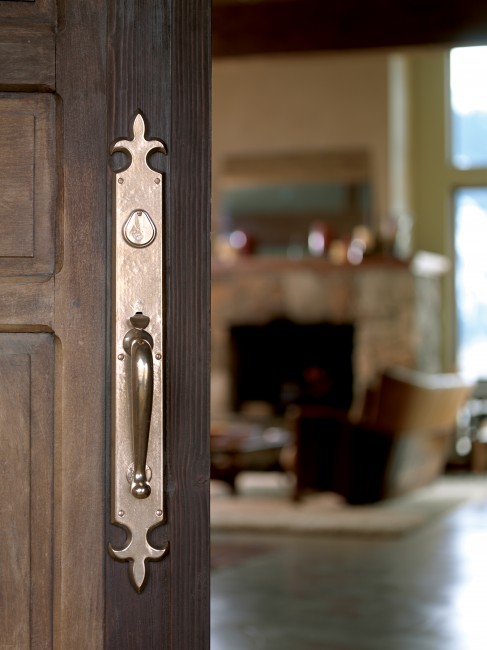 -Door thickness (usually 1-3/4" for an exterior door)
-Backset (from the center of the knob or lever to the edge of the door. This will be anywhere between 2"-3" usually.)
-Door handing (From the exterior side of the door, are the hinges on the left hand side or the right hand side?)
Other things to note: If it is a double door, which side is the "active" side and which is the stationary or "dummy" side. Also take a look at your hinges and note if they will also need replacing.
Tubular lock style is the most popular where there are two 2-1/8" bore holes one on top of the other about 5-1/2" apart. For this style you will still want to note the door thickness, backset, and door handing. You will also need to jot down the "center to center" dimension of your bore holes. This can be determined by measuring from the center of the top hole to the center of the bottom hole (the standard is 5-1/2").
Multi-point locking systems have anywhere from 3-5 different latch points on the door. These are usually located as follows: one latch in the middle of the edge of the door (typical), and the other two about 2" in from the top and bottom edge (note: these can sometimes me located actually on the top and bottom edge of the door as well). There is a rod that runs parallel to the edge of the door that when the lever is turned retracts all of the latches at once and allows the door to swing. If you have a multipoint door, note the door manufacturer before shopping. This can usually be found on the interior edge of the door or etched into the top or bottom piece of glass.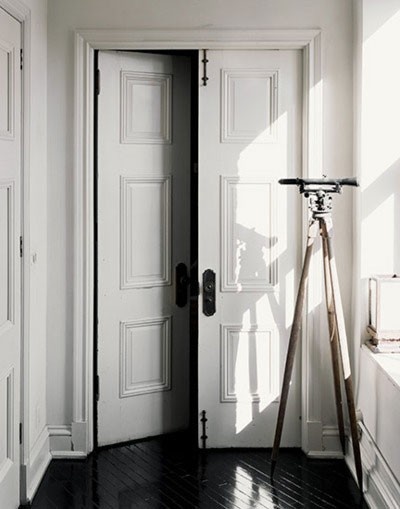 Shopping for interior door hardware it isn't quite as complicated but there are still a few things you should write down before setting off. There are three types of hardware here as well: passage, privacy, and dummy.
-Passage; no locking mechanism present. You turn or depress the knob or lever and the door swings open or closed. Generally used for areas like walk in closets or hallways.
-Privacy; works the same as the passage function except has a push button on the knob or back plate. Its best application is on areas such as bedrooms or bathrooms.
-Dummy; this is a non-working piece of hardware that is generally surface mounted to the door. These are usually used on closet doors in conjunction with a ball catch mechanism to open and shut the door. They are also used on dummy doors so that the hardware looks symmetrical with the active side.
Most people do not realize that for the same amount of money as you would spend at a box store you can get a semi-custom product that is tailored to your home. Browse online before shopping to get a good understanding of your options and for some unique ideas. Hardware is one of those little details that can really make a space look top notch and finished.
Do you have a unique door or a hardware dilemma you need help with? Let me know, I love a challenge!
---
Have your say!
0 Comments